Online Domination Strategies Seminar- 4 May, 2011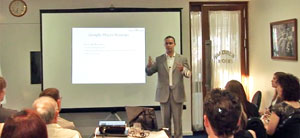 Recent Seminar at the South of Perth Yacht Club
I went to a presentation by James Mawhinney from PositionMEonline and it was exciting to say the least. The presentation itself was short but very concise. James obviously knows his subject very well and helped to explain some of the mysteries of Google and the internet.
I found out how many small things can make a difference to my Google ranking and that it doesn't just take large amounts of money to progress. The talk was very inspiring and I set up my own Google account as soon as I got home! Highly recommended.
- Robert, Art-Photography
Excellent and informative seminar on how to achieve search engine optimisation and what it actually means. The company has up to date information on current and future technology and more importantly can explain technical detail in plain English. Will definitely be picking their brains further in the near future.
- Amanda, Pacvac
James and the team at PositionMEonline certainly helped to take our business up to another level. Their understanding of Google's requirements is great. I recommend them to many of my customers.
- Dave, Hotwaterwa
The team at PositionMEonline offer a wonderful service - thorough, efficient and patient (which they had to be!) They created a very effective, user-friendly website that has proved to be hugely valuable in securing us many new clients. Their knowledge of search engine optimisation and the implementation of such has, in particular, ensured we rank very highly in the categories relevant to our business.
- Roger, Henova Holdings Pty Ltd
The PositionMEonline team has provided us with an excellent all round service relating to getting the most from our website and what the web has to offer. Through a well developed strategy for search engine optimisation to implementation of the various steps their service and approach has been excellent. This includes Google Adwords and keeping up to date with whatever is going on in the ever changing world of the web. Great job and thank you. Paul
- Paul, Resicert
PositionMEonline and the services they offer was recommended to us by an associate. After our initial meeting with James as to what our company required for lead generation a plan was put in place. James really knew what we needed to grow our business and have already started to see the return on our investment in using their services.
Within the first week of using MySuperAds we started to get enquiries and are in the process of gearing up for another website. This has been the best ROI I've seen our company spend to date.
- Renee, Macro Realty
You are invited to an educational seminar discussing practical and easy strategies on how you can dominate the search engines in your business niche.
Learn how to stay ahead of your competitors with practical education on:
Google's latest ranking factors and how they will affect your website
How to maximise Google AdWords campaign performance
Why Yahoo & Bing/MSN can save you money
Coaching staff to turn searchers into customers with inbound call tracking
Banner advertising across Australia's most popular news, real estate, & automotive websites
How to set up low-cost Facebook ads that generate customers


When and Where:
Date: Wednesday 4th May 2011
Time: 4:45pm for 5:00pm start- 6:30pm
Venue: City West Function Centre, Plaistowe Mews, West Perth
Price: $40 incl GST (includes tea, coffee & a free gift)


About The Speaker
James Mawhinney, Director - PositionMEonline
James has 10 years of internet marketing experience, specialising in assisting small-medium businesses to be successful online. He trained in Chicago under the guidance of one of the industry's most respected search engine marketing organisations, Position Technologies Inc. and has travelled internationally to speak at web marketing conferences.
PositionMEonline
was established in 2001 and has over 500 clients throughout Australia, many of whom are Perth small businesses. James has a Bachelor of Laws and a Bachelor of Commerce from the University of Western Australia, is a Google AdWords Qualified Consultant, has been trained in web content writing, and has a passion for adapting internet technologies to the needs of businesses.
Limited Seats - Register Online:

»
MySuperAds Login
Members of: